Open Registration Begins January 16, 2024
2024-2025 Tour Dates January 23, 2024
& January 24, 2023 @ 9:30 a.m.
Please contact the preschool to schedule a time.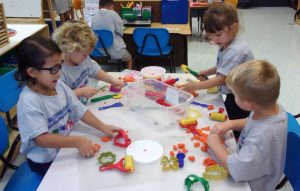 Apply
Application Process
Spacing is limited, please call ahead to schedule a tour.
$50.00 non-refundable application fee per-child.
Applications without the fee will not be considered.
The director will review all applications and assign a class based on acceptance status and class choice.
Upon acceptance, there will be $200.00 non-refundable enrollment fee pre-child.
Once classes are filled, applicants will be placed on a waiting list.
Parents will be advised of their acceptance via e-mail.
Admissions Policy
The open admission policy of St. Timothy Catholic Early Childhood Learning Center allows no person to be discriminated against on the basis of race, color, or ethnic origin, nor is the staff hired or assigned on the basis of race, color, or ethnic origin.
Although we wish we could offer admission to everyone that applies, there are several factors that may prevent us from offering your child admission; space availability, and our ability to meet the child's needs. 
Immunization and Health Exam Policy
Children must be current on their immunizations and health exam to attend St. Timothy Catholic Early Childhood Center.
The Diocese of St. Petersburg does not accept Religious Exemptions.
Proof of immunizations must be submitted to the school.