Registration for the 2021/2022 school year begins on January 19, 2021!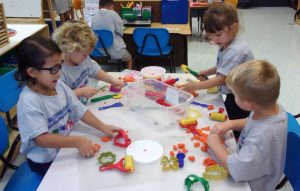 Registration Application Procedures
All returning and new students will need to apply within the specified application period in order to be considered for enrollment for the next school year.
There is a $160 application fee for new students and $100 for siblings and returning students. This fee is non-refundable and does not guarantee a space in a class.
Applications will be reviewed and given priority based on established criteria listed below.  Applications received without the application fee will not be considered.
Staff Child
Returning student in good standing*
Sibling of returning or current student in good standing*
Sibling of former students
New student of supporting parish member
New student of another Catholic parish
New student from the community
The director will review all applications and assign a class based priority status and class choice.
Parents will be advised of their acceptance via e-mail.
Once classes are filled, applicants will be placed on a wait list and parents will be notified of their status by e-mail.
*In order to be in "good standing," tuition must be up to date.